Product Candidate
A New Product to Treat Heel Pain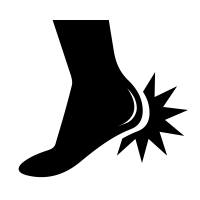 Björklund Pharma AS is developing a new product to treat Achilles tendon and heel pain (ATHP), a major concern, particularly for athletes, military people, and ordinary workers badly using inferior arts. Mineral displacement therapy to rescue the correct mineral balance in the osteoarticular districts can alleviate heel pain.
In collaboration with international researchers, it was in October 2021 published, a clinical pilot study in Science & Healthcare (1).
Reference
1. Dhillon KS, Singh J, Chirumbolo S, Chartrand MS, Lyall JS, Bjørklund G. Treatment of Heel Pain with Mineral Salts Exchange: Protocol for a Clinical Pilot Study. Science & Healthcare 2021; 23(5): 118-124.